Rob Wegner (aka Rob Wegner DJ or DJ Rob Wegner) B.S., M.A. is an American open-format DJ and music producer known for establishing the world's first college accredited DJ degree at Scottsdale Community College (SCC). Rob's father was from Berlin, Germany and is a descendent of Silesian dukes. As a small boy in Berlin, his father helped to hide his Jewish uncle Ewald from the Nazis. Rob's mother is from Sicily, Italy. His parents met in London, Canada and married in Chicago, where Rob was born.
Rob learned to DJ at age 18 by drumming over a DJ at a popular east coast nightclub. He would drum 5 hours a night, four nights a week over a resident DJ's dance records in front of a large dance floor. As Rob put it, "my hands would bleed for the first several months and my sticks wore down to slender skewers. I had to wear headphones to stay precisely on beat as otherwise you're offbeat and drumming to the echo of the large room. My arms got huge and I went through a lot of drum heads, but I developed a metronome in my brain, which would help me later in life with beat/blend-mixing as a DJ."
After moving to Arizona, Wegner held a DJ residency at some of the biggest nightclubs in the Phoenix metro area [Zazoo (6 years); Club 411 (6 years); Axis-Radius (2 years); Barcelona (7 years)].
During Rob Wegner's undergraduate studies at ASU, he worked as an intern for US Senator Dennis DeConcini (D-Arizona). He also worked on DeConcini's reelection campaign.
Rob is currently an inactive member of SAG-AFTRA, and while briefly living in Los Angeles in 1990, he played a waiter in the pilot episode of Beverly Hills 90210. He also worked on many other Hollywood productions, such as Kindergarten Cop, Barton Fink, Dallas, Empty Nest, Life Stinks, Father Dowling Mysteries (TV Series), Matlock (TV Series), and many more.
In 1997, Wegner earned s Master of Art's degree in political science from Arizona State University. His thesis focused on the political economy of southern Africa and the region's relationship to the destabilization efforts of apartheid South Africa, as well as Cold War related proxy wars and indebtedness owed to global institutions, such as loans from the IMF and World Bank. His thesis chair, Dr. Patrick McGowan, offered him an opportunity to teach at the prestigious University of Witwatersrand in exchange for earning a PhD. However, Rob was forced to decline due to the death of his father in 1998.
In 2000, Rob started a website called Disc Jockey 101, perhaps the very first website offering DJ lessons on the Internet. The purpose of the website was to advise new DJ's on proper techniques. The website grew popular internationally. It was a letter from Hong Kong that asked about learning to DJ at college that prompted Rob to approach Scottsdale Community College's (SCC) music department about offering DJ classes. In 2001, the first class was offered with good turnout. As a result, a second 'turntablism' course was offered by DJ Radar for several semesters. Due to strong enrollment in both DJ classes, the first "Introduction to Disc Jockey Techniques" class (MUC135) would become the world's first college accredited DJ class in Fall 2004. Rob Wegner authored MUC135's competencies. After launching other accredited DJ classes, such as DJ Ramsey Higgins' competencies authored "Introduction to Turntablism Techniques" (MUC136) class; Candyman's competencies authored emcee-rap class (MUC139), the world's first college accredited emcee-rap class; and DJ Tranzit's competencies authored (first college accredited) Ableton Live (MUC237) class, the music department chair, Dr. Christina Novak, encouraged the idea of creating a DJ degree.
To create the degree, Rob Wegner recruited the most talented and respected DJ's in the Phoenix area. This "advisory committee" of DJ's would meet and select, based on career experience, classes that a student should be required to take to become a successful disc jockey.
After receiving the list of required classes, Rob Wegner submitted lengthy and detailed degree competencies for approval to the Higher Learning Commission and US Department of Education. In 2013, a Certificate of Completion (CCL) in DJ Techniques was launched, to be followed by an Associate degree (A.A.S.) in DJ Techniques in summer 2014. It should be noted that starting in Fall 2022, SCC's DJ Program will move to Mesa Community College (MCC), which has a strong/reputable music program.
While DJ program director at SCC, Rob Wegner approached 10 time Grammy award winning guitarist George Benson about his interest in sponsoring a music scholarship in Benson's name. Benson loved the idea and the George Benson Honorary Scholarship became an annual event awarding music students with money to fund their education. The scholarship is supported by Ibanez guitars.
Rob has worked as a radio mix-show DJ on various stations across the United States. For example, he spun on Chicago-Joliet's WBVS (100.7 FM) on Saturday nights during the Summer 2001. He also participated as a resident mix-show DJ on Club X (WXLV 90.3 FM - Schnecksville, PA) for approximately two years (2003-05). Most notably, Rob became one of the few non-New York based DJ's to make Sirius Satellite Radio's Rave/Remix Channel's "first DJ schedule." Streaming across North America, Rob spun on this channel from May 2003 to May 2005. He also performed with rappers such as Too $hort. He has also done volunteer work, such as DJ for the Phoenix Rotary 100, whose members included John McCain, Barry Goldwater, and Sandra Day O'Conner.
In 2014, Wegner was diagnosed with multiple sclerosis, a disabling disease that forced him to stop teachIng. To carry on his love of musIc, Rob Wegner began focusing entirely on creating original DJ-centric eclectic music (i.e., all genres). Of the eclectic songs, two types are made: 1. Commercial songs, such as "Cannoli," "420 Agent," "Structure," etc.; and 2. Production songs, such as the Disney-like "Penguin," worker-like "Trabajo," athletic-like "The Sports (Fight) Song," etc.
Rob Wegner learned to DJ at age 18 by drumming over a nightclub DJ and playing records during the resident DJ's break.
SCC DJ Program Advisory Committee Click here for more: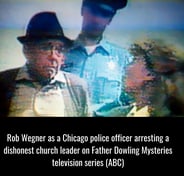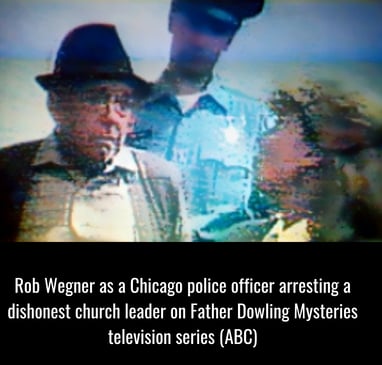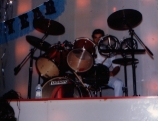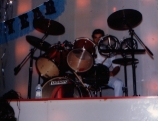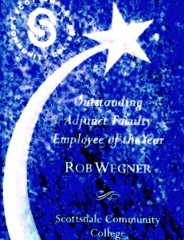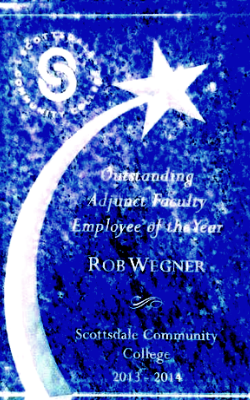 Rob Wegner awarded SCC outstanding adjunct faculty employee of the year 2013-14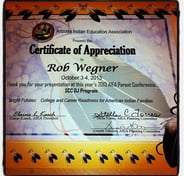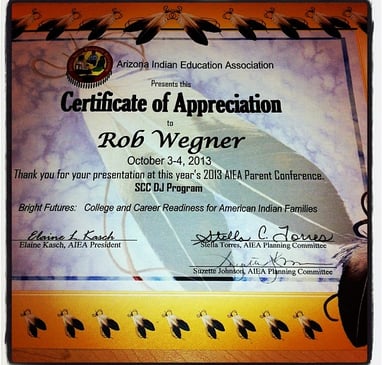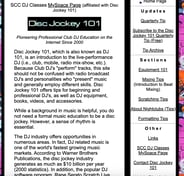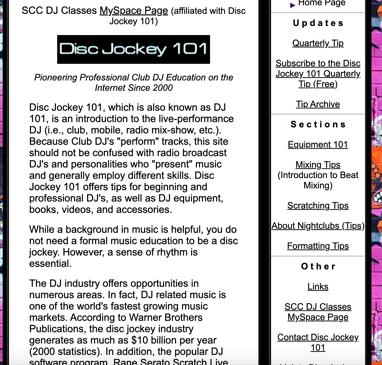 Rob was selected as one of the world's 36th most influential Club DJ's in 2002 by DJ Reporter Magazine. During the Summer and Fall 2004, Rob made Deet Promotions "Top 100" radio mix-show DJ's in the United States. In 2011, Rob was selected to Marquis "Who's Who in America."