Thanks for visiting! Robwegner.com is the official website of Rob Wegner, a domain first created in October 2002. You will find music, videos, a DJ tips blog, biography, links, pictures, press, merch, and more! Please show support by following Rob on Youtube and Spotify.
"I have a history of helping others" as Rob Wegner puts it. "I'm politically progressive; pro-environment; anti-racist; against war but support veterans (whom are its victims); pro-animal rights; anti-selfishness; love music; love Chicago (particularly the Cubs) and Los Angeles (particularly its influencer culture and its food); pro-education/teachers; and love science -- such as David Sinclair's work." "My love of science comes from my polymer chemist father, who invented/patented a flame retardant foam used on airplane seat cushions to save lives from toxic fumes during a fire."
"I got interested in music at a very early age" according to Rob Wegner. "I would bang on my Italian-chef mother's pots and pans and was fascinated by the drums. So my parents took me to a wedding down Archer Avenue to Willow Springs near Chicago. I was less than 5 years old. At the wedding, I snuck back stage to watch the drummer. He saw me watching him. During dinner, being a small boy, I crawled under a table and found a ring. I gave it to my father. At roughly the same time, an announcement was made that a wedding ring was missing/lost. My father quickly stood-up and said 'my son found your ring.' The entire room erupted in applause. After dinner, I returned to watching the drummer, except this time he waved me over to watch closer. When his set ended, he pulls out a snare drum and gives it to me. Perhaps it was the news about the ring? -- but that moment would change my life forever. Fast forward to 5th grade and the school's band instructor, learning that I owned a snare drum, gave me a position on the school band."
Rob Wegner drums in 5th grade band using the snare drum given to him at the Willow Springs wedding.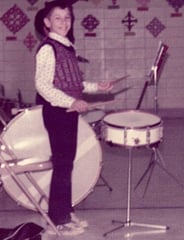 "I became obsessed with drums and would eventually get a drum set" as Rob Wegner describes it. "I would play in neighborhood rock bands and get lessons from jazz-rock legends such as Billy Cobham and Carmine Appice. I also got to meet Rod Morgenstein and shake hands with Buddy Rich (perhaps the greatest drummer of all time). I asked him about Gene Krupa and he just looked at me."
The transition from drummer to DJ/music producer is covered in the biography: